dune.net talker plans
If you have any questions please take a look at our new account faq or feel free to contact us!
You can also view a side-by-side comparison chart of the talker plans.
Basic Talker Plan
Enhanced Talker Plan
Advanced Talker Plan
Premium Talker Plan
Extreme Talker Plan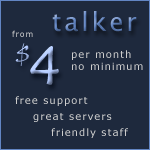 Special Deals

Get started on your basic talker account for as low as $4.00 per month!

Pay one year in advance and receive a 15% discount; pay six months and receive extra disk space.
Quick Statistics

There are print exec('/bin/netstat -ane | grep ESTABLISHED | wc -l'); ?> players logged into Dune Internet hosted MUDs and Talkers on tangent.dune.net